Timeline of the Herrebrugh family in The Banda Islands of Indonesia.

There were 5 generations of Herrebrugh's that lived, cultivated and traded the valuable spice. They were plantation owners or Perkeniers of the Perk's Matelenco and Spantje Bji from 1794 until 1904.
Evert Coenrardsz Herrebrugh was the first of the Herrebrugh's that came to the Banda Islands circa 1794. This was shortly before the VOC, the Dutch East India Company, that held the Nutmeg monopoly, went bankrupt.
In 1772 – Coenraad Herrebrugh (Herbrug) (1723-1775) and his wife Margareta (born Wimmers) (1735-1775) had a son in Amsterdam, Evert Coenrardsz Herrebrugh (1772-1809).


In 1775 – both Coenraad and Margareta die leaving son Evert age 3.
1778 – Gunung Api erupts, an earthquake strikes, tidal waves and a hurricane hit. The islands were destroyed, perkeniers go bankrupt.
Around 1790, Evert Coenrardsz Herrebrugh first came to the Banda Islands from Amsterdam. In 1794, at age 22, he marries Elisabeth Leunissen in Banda Naira. They establish the nutmeg perk "Matalenco" (Matalenko) on the island of Ai (Ay). Colonists were enticed to become Nutmeg plantation operators if they vowed to remain there forever.
1795 – The VOC goes bankrupt.
1796 – The Dutch yield the islands to the English so not to be taken by the French during the Napoleonic Era.
1796 – Evert and Elisabeth have a son Evert Evertsz Herrebrugh (I) (1796 – 1862)
1803 – Banda is back in Dutch control and they began to recruit new civil administrators to replace the defunct VOC as the new NHM (Nederlandsche Handel-Maatschappij)
1809 – Evert Coenrardsz Herrebrugh dies at age 37.
From 1810 through 1817 Banda is back to English occupation under Captain
Cole. A hurricane struck in 1815 followed by two big earthquakes in
1816 and 1820. In 1817 Banda goes back to Dutch control. Perkeniers lead
lavish lifestyles and assume heavy debt.
In 1821 – Evert Evertsz Herrebrugh (I) (1796-1862) at age 25 marries Geertruida Carolina Hartog in Banda.  He becomes the perkenier of the perk "Spantjebij" in Lonthor on the Big Island of Banda. He was a member of the "Council of Justice". They had 7 known children.
In 1828 – Evert and Geertruida have a son, Evert Evertsz Herrebrugh (II) (1828-1869).
1845 – Dutch give perkeniers titles to their perks and are now independently owned.
1849 – At age 21, Evert Evertsz Herrebrugh (II) (1828-1869) marries Johanna Maria Charlotte Vermeer.
1850 – They have their first child, Andries Michiel Herrebrugh (1850 – 1922) (My great-grandfather)
1852 – Tidal Wave / 1854 – Earthquakes / 1856 – Fire in Banda Naira
1859 – Charities from a far reduce debts of perkeniers.
1860 – Abolition of slavery.
1862 – At age 66, Evert Evertsz Herrebrugh (I) dies in Banda.
1864 – Termination of Spice Monopoly.
1869 – At age 41, Evert Evertsz Herrebrugh (II) dies in Banda.
1870 – Andries Michiel Herrebrugh, at age 20 marries, Emelijn Bernardina Strubij/y (1850-1887) in Banda.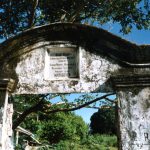 1875 –  Andries opens independent "Specery Land Matalenco" on Ai.
 Andries and Emelijn have 8 children:
• 1876 – Floris Evert (1876-1920)
• 1877 – Ferdinand (1877-1963)
• 1880 – Oscar (1880-1949)
• 1882 – Evert Valentin (1882-1949)
• 1884 – Michiel Hendrik (1884-1937)
• 1885 – Emelijn Michelien (1885-1965)
• 1887 – Jacobus Johannes Bernardus Josephus (1887-1945)
1887 – Emelijn Bernardina Strubij/y dies at age 36 in Banda.
1889 – At age 39, Andries marries 2nd wife Anna Constance Theodorusz (1850-1916) (My great-grandmother) in Banda.
1890 – Andries and Anna have a son:
Louis Reynard Herrebrugh (1890-1915) (My grandfather) in Banda.
1904 – The perks were still debt laden and had to be sold to N.V. Kok, a Chinese family buying perks competing against the NHM.
In 1908 – Louis Reynard Herrebrugh moves to Ulee Lheue, Banda Aceh, Northern Sumatra as the Plantations were lost and becomes a Customs Officer.
In 1914 – Louis marries Anna Minke Teffer (1889-1995) (My grandmother) in Banda Aceh, Sumatra.
In Nov 1914 – Louis and Anna have a daughter, Constance Anna Herrebrugh (1914-1995) (My mother) in Ulee Lheue, Banda Aceh.
In Dec 1915 – Louis Herrebrugh dies at age of 25 of Cholera in Ulee Lheue. Anna Minke was pregnant at the time.
July 1916 – Anna Minke gives birth to son, Mattheus Thomas (Thijs) Herrebrugh (1916-1976) in Soekaboemi, W. Java
1916 – Anna Constance Theodorusz (1850-1916) (Great-Grandmother) dies at 66.
1917 – Anna Minke remarries Louis's half-brother Jacobus Johannes Bernardus Josephus Herrebrugh (1887-1945)
1922 – Andries Herrebrugh dies in Semarang at age 72.
1945 – Jacobus Herrebrugh dies at age 58.
1958 – The nationalization of Indonesia converted the ownership of the perks to the Indonesian state.